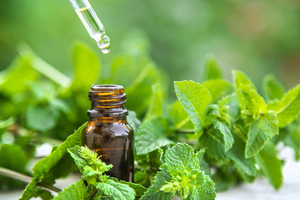 Description
Discover the versatility of Spearmint (India) Essential Oil, a must-have for candle making, diffusers, and more.
Derived from the Mentha spicata plant, this pure and natural oil carries a refreshing minty aroma that uplifts and invigorates any space. Perfect for creating scented candles, it infuses your home with a delightful and calming ambiance. Additionally, when used in diffusers, it promotes a sense of tranquility and mental clarity. Explore the endless possibilities of Spearmint (India) Essential Oil and elevate your crafting and aromatherapy experiences.
Avoid direct contact with eyes and sensitive areas. Keep out of reach of children. Store in a cool, dark place to preserve its potency.
Shake well before use. 
Botanical Name: Mentha Spicata
Origin: China
Plant Parts Used: Herb/Flowering tops and leaves
Aroma: Similar to peppermint
Blends Well With: Basil, Grapefruit, Linden Blossom, and Rosemary
Safety Precautions: Non-toxic, non-irritant, non-sensitizing, non-photophobic
Flashpoint: 201℉ | 94°C
*Village Craft and Candle is not responsible for misuse of essential oils. Always research how to safely use any essential oil before using it in your candle recipes.