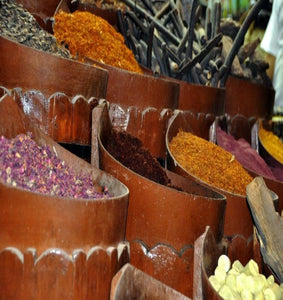 Description
Afternoon sunshine on clay, warm earth amidst the exotic notes of saffron and peppery spice. Aromatic, arid, distinctive.
Fragrance Notes:
Top: Red Tea, Peppery Spices, Saffron
Mid: Earthy Tobacco, Moroccan Rose, Violet Petals
Base: Coconut Milk, Vanilla Bean, Smoked Tonka
Suitable for Paraffin, Soy, and Vegetable waxes

Flash Point: 100C / 215F
Bath and Body Safe (Refer to IFRA for usage levels)
Phthalate Free
Paraben Free
Exclusive Oil - Designed and tested by VCCandle. This oil is best used within one year.

Colour Suggestion: amber, clay red

Email us to order 25lb Drum quantities. Available upon request.