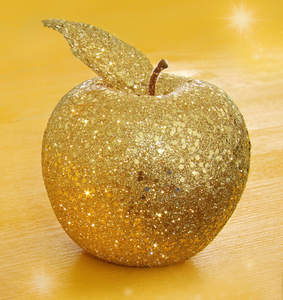 Description
Get ready to be razzle dazzled by the irresistible charm of Razzle Dazzle Apple Fragrance Oil! This enchanting blend takes you on a whimsical journey through a sparkling orchard, where juicy dazzle apples, frosty peaches, tangy tangerine peel, and zesty bergamot dance on your senses. Just when you thought it couldn't get any more magical, the scent of fresh pine needles adds a touch of woodland wonder.
As the fragrance unfolds, you'll be greeted by a delightful blend of white clove, sweet cinnamon, and sparkling strawberries, perfectly balanced with a twist of rhubarb. This playful combination is like a burst of joy, tickling your senses and filling the air with irresistible excitement. At its base, Razzle Dazzle Apple settles into a warm embrace of blonde woods and vanilla musk, creating a soothing and cosy finish that lingers like a comforting hug. 

This scent is your ticket to a world of whimsy and joy. Let this captivating blend take you on a scent adventure that will leave you feeling razzle dazzled, refreshed, and ready to conquer the day with a smile. Sample this fragrance oil along with 9 other amazing scents in our Fall Fragrance Explore Kit!

Fragrance Notes: 
Top: Dazzle Apple, Frost Peach, Tangerine Peel, Bergamot, Pine Needle
Mid: White Clove, Sweet Cinnamon, Sparkle Strawberry, Rhubarb
Base: Blonde Woods, Vanilla Musk
Suitable for Paraffin, Soy, and Vegetable waxes

Flash Point: 184℉ | 85.°C

Bath and Body Safe: Bath and Body Safe (refer to IFRA for usage levels)

Phthalate Free

Paraben Free

Vanillin Content: 0 (

PLEASE NOTE:

If vanillin content is present, oxidization will cause this fragrance oil to darken in colour over time. This does not affect the quality of the oil in any way. However, when added to wax, it may alter the colour of your end product.) 

All fragrance oils are best used within 1 year

This product is

Final Sale

, and is not eligible for refunds or exchange
Colour Suggestion: Red or Golden Honey

Wholesale 25lb drum quantities available upon request.