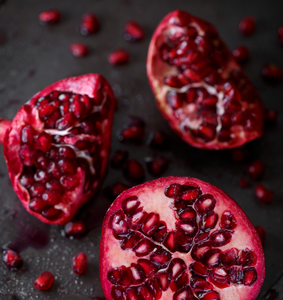 Description
Enjoy the irresistible charm of Jeweled Pomegranate Fragrance Oil, a harmonious orchestration that unveils sparkling bursts of citrus and a jewel-like medley of fruits that are accented by delicate spices. Experience the vivacious beauty of sun-kissed oranges and tangy citrus peel dancing alongside the irresistible sweetness of cherries and red apples, crowned by the radiant essence of bergamot. 
Immerse yourself in the heart, where jeweled pomegranates, ripe strawberries, and succulent raspberries intertwine with a hint of warm cinnamon, creating a symphony of aromas that delights the senses. Finally, the fragrance gracefully settles into a velvety embrace of vanilla bean and musk, leaving an enchanting and unforgettable impression that lingers delicately in the air. Sample this fragrance oil along with 9 other amazing scents in our Winter Fragrance Explore Kit!

Fragrance Notes: 
Top: Sparkling Orange, Citrus Peel, Sweet Cherry, Red Apple, Bergamot
Mid: Jeweled Pomegranate, Strawberry, Raspberry, Cinnamon
Base: Vanilla Bean, Musk 
Suitable for Paraffin, Soy, and Vegetable waxes
Flash Point: 186℉ | 86°C

Bath and Body Safe: Yes (refer to IFRA for usage levels)

Phthalate Free

Paraben Free

Vanillin Content: 0 (

PLEASE NOTE:

If vanillin content is present, oxidization will cause this fragrance oil to darken in colour over time. This does not affect the quality of the oil in any way. However, when added to wax, it may alter the colour of your end product.) 

All fragrance oils are best used within 1 year

This product is

Final Sale

, and is not eligible for refunds or exchange
Colour Suggestion: Magenta

Wholesale 25lb drum quantities available upon request.