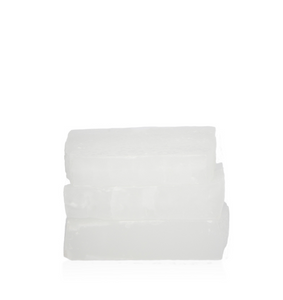 Description
IGI 4625 - Premixed wax for scented pillars.
Premixed wax eliminates the need for "candle recipes". All necessary additives are precisely measured and added by the manufacturer.
A slab is apx 10 lbs and a case is apx 40lbs.
Instructions:
Heat wax to 175°F - 185°F.
Add fragrance and dye, stir thoroughly, then pour between 170°F-180°F.
Save some wax for the 2nd pour.  As the wax from the 1st pour is cooling, you will need to periodically poke relief holes in the candle (about the size of a dime near the wick should be sufficient) to reduce pressure inside the candle as the wax contracts.  

Once the 1st pour has cooled, top the candle off with the 2nd pour.  Because this wax needs to contract to come out of the mold, once the candle has cooled, there will be a small space in between the candle and the mold.  DO NOT pour the 2nd pour any higher than the original pour.
When pouring large pillars, the same process may need to be repeated again with a 3rd pour.
Need a Pallet? Visit our Wholesale Candle Supplies Page for more information!