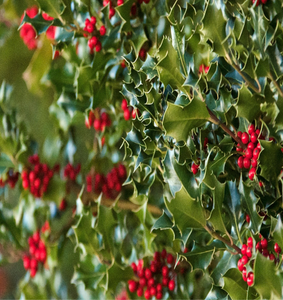 Description
With our Holly & Ivy fragrance oil, step into a world where the air is crisp, tinged with the tantalising aroma of fresh eucalyptus leaves delicately carried by the breeze. The subtle spice of clove leaf adds a touch of warmth and intrigue. The heart notes reveal a tapestry of holiday delights that include vibrant holly berries and wild currant dancing in harmony with invigorating pine needles. Just when you think it couldn't get any better, the base notes of ivy, Douglas fir and white birch leave a majestic and earthy aroma that lingers in the air. Holly and Ivy is a fragrance that captures the spirit of the holiday season, invoking snow-covered landscapes, and the timeless beauty of nature.
Sample this fragrance oil along with 9 other amazing scents in our Winter Fragrance Explore Kit

Fragrance Notes: 
Top: Crisp Air, Fresh Eucalyptus, Clove Leaf
Mid: Holly Berry, Wild Currant, Pine Needle
Base: Climbing Ivy, Douglas Fir, White Birch
Suitable for Paraffin, Soy, and Vegetable waxes
Flash Point: 182℉ | 83°C

Bath and Body Safe: Yes (refer to IFRA for usage levels)

Phthalate Free

Paraben Free

Vanillin Content: 0% (

PLEASE NOTE:

If vanillin content is present, oxidization will cause this fragrance oil to darken in colour over time. This does not affect the quality of the oil in any way. However, when added to wax, it may alter the colour of your end product.) 

All fragrance oils are best used within 1 year

This product is

Final Sale

, and is not eligible for refunds or exchange
Wholesale 25 lb drum quantities available upon request.