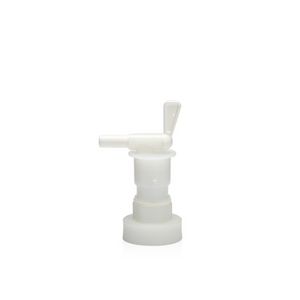 Description
Elevate your fragrance crafting experience with the versatile Fragrance Drum Spout Adapter. This essential accessory is meticulously designed to enhance your fragrance drum handling process. Crafted for compatibility, it seamlessly fits all Village Craft & Candle Fragrance Drums, making it an indispensable tool for your fragrance creation journey.
Key Features:
Universal Compatibility: This spout adapter is engineered to work effortlessly with all Village Craft & Candle Fragrance Drums, ensuring a seamless and efficient fragrance pouring experience.

Enhanced Design: With an Inlet Size of 3/4", this adapter ensures a smooth and controlled flow while maintaining optimal fragrance integrity.

FDA Compliant Standards: Trust in the safety and quality of this adapter, as it meets FDA standards for reliable and worry-free usage.

Seamless Gasket Inclusion: Each package includes a gasket for a tight and secure fit, preventing any leakage during the fragrance transfer process.

Lightweight and Durable: Crafted from high-quality LDPE material, this adapter weighs in at just 0.25 lbs, ensuring a lightweight yet durable addition to your fragrance crafting toolkit.

Natural Aesthetic: With a color reminiscent of nature's hues, this adapter boasts a Natural color that seamlessly blends into your fragrance crafting environment.
Experience convenience and efficiency like never before with the Fragrance Drum Spout Adapter. Make the most out of your fragrance creation endeavors with a tool that's both practical and reliable. Elevate your craft and pour your creativity into every fragrance, assured by the quality of Village Craft & Candle.
Note: Fragrance Drum not included. This product is designed to be used specifically for Village Craft & Candle Fragrance Drums.
Inlet Size
: 3/4"
Standards
: FDA Compliant
Includes
: Gasket
Weight:
  0.25 lbs.
Color:
Natural
Material:
LDPE