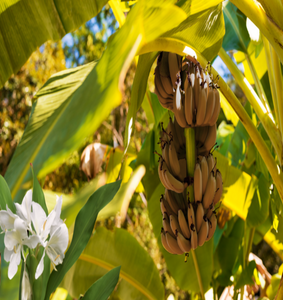 Description
The uplifting and vibrant scent of lemongrass, lemon, and orange gives a zesty burst to the Fei banana leaves and Fei banana that lie at the top of this fragrance. A floral bouquet of ginger lily, carnations, and freesia are perfectly blended into the fresh and green base of heliotrope Florette, coconut, sandalwood, cedar leaf, tonka, and musk. Sample this fragrance oil along with 7 other amazing new scents in our Spring Fragrance Explore Kit!
Fragrance Notes:
Top: Lemongrass, Lemon, Orange, Fei Banana Leaves, Fei Banana
Mid: Ginger Lily, Carnation, Freesia
Base: Heliotrope Florette, Coconut, Sandalwood, Cedar Leaf, Tonka, Musk
Suitable for Paraffin, Soy and Vegetable waxes
Flash Point: 63C / 148F

Bath and Body Safe (refer to IFRA for usage levels)

Phthalate Free

Paraben Free

Vanillin Content: 0 %
Colour suggestions - Deep orange, light green
Email us to order 25lb Drum quantities. Available upon request.