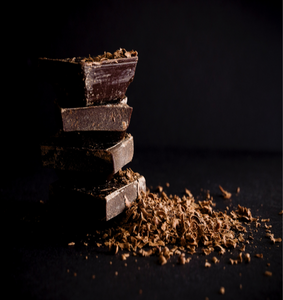 Description
Discover the captivating essence of Dark Chocolate, a fragrance oil that celebrates the decadence of indulgence. At the top, the rich aroma of walnuts and the enticing blend of a freshly brewed coffee donut awaken your senses with tantalising energy. As the fragrance evolves, the heart reveals the deep and velvety aroma of dark chocolate, harmoniously blended with sweet caramel, creating a symphony of delectable notes. Finally, the base notes of cocoa butter and vanilla provide a smooth and creamy foundation that will leave you craving more. Dark Chocolate's exquisite scent envelopes you in a world of culinary delight and irresistible temptation.

Fragrance Notes: 
Top: Walnut, Coffee Donut
Mid: Dark Chocolate, Sweet Caramel
Base: Cocoa Butter, Vanilla
Suitable for Paraffin, Soy, and Vegetable waxes
Flash Point: 215℉ | 100°C

Bath and Body Safe: No (refer to IFRA for usage levels) 

Phthalate Free

Paraben Free

Vanillin Content: 10% (

PLEASE NOTE:

If vanillin content is present, oxidization will cause this fragrance oil to darken in colour over time. This does not affect the quality of the oil in any way. However, when added to wax, it may alter the colour of your end product.) 

All fragrance oils are best used within 1 year

This product is

Final Sale

, and is not eligible for refunds or exchange
Colour Suggestion: Brown

Wholesale 25 lb drum quantities available upon request.