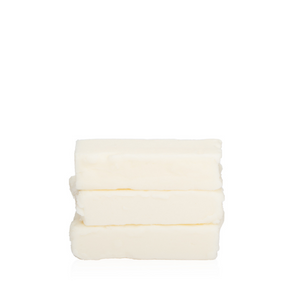 Description
DUE TO A SHORTAGE IN RAW MATERIALS, OUR SUPPLIER'S PRODUCTION IS INTERMITTENT AND UNPREDICATABLE.
Coconut wax - All Natural Premium Container Blend. A 57lb case contains 5 slabs, each 11lbs.
Coco PUR83 from Accublend
"Natural, Coconut, Organic Waxes & Oils; 100% Proprietary Blend"
Coco PUR83 contains a proprietary combination of coconut wax, paraffin wax, palm wax, and mineral oil.
Details
Candles made from coconut wax burn the cleanest compared to other types of wax as it produces less soot so you don't have to worry about keeping your surfaces clean.

It has excellent color retention, jar adhesion, hot and cold scent throw.
No additives are required. It is also blended to eliminate frosting of colored candles and is a one pour blend. It has a smooth surface & burns cooler so it burns longer.
As with all natural products, color and texture can vary slightly from batch to batch; however, fall within manufacturing quality parameters.

Coconut wax burns slower than other wax.

Complement this smooth natural blend with our fragrances perfectly designed for our waxes.
MP: 126F
Need a Pallet? Visit our Wholesale Candle Supplies Page for more information!
HOW TO USE:
Heat to 150-170F degrees, remove from heat source, add fragrance oil and dye, blend and stir while cooling and pour at 150℉ degrees for best results. For Consistent smooth results, it is recommended to pour Hot @150-170℉.
For thick glass and or cooler room temperatures below 65℉, pre-heating the glass is recommended and poured at 150-170℉.
For smoother top surfaces, it is recommended to heat lamp the surface after candle has set up.
All our natural blends were formulated to pour hot (150℉ to 170℉) for slower cooling rate which will result in consistent smoother looking candles and minimize any blooming. Maximum Fragrance load is 8%, and higher fragrance loads should be tested per fragrance.
This product meets FDA requirements for use in non-food articles in contact with food as per 21 CFR 172.880.
Attention: Variations in both color and texture of vegetable based wax (soy, coconut, and palm) is common due to the natural characteristics of the ingredients. We make every effort to confirm the wax we sell meets the quality standards and technical specifications set by the manufacturer.