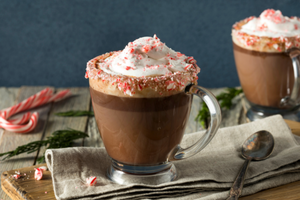 Description
Elevate your candles with the exquisite aroma of Candy Cane Mochaccino. At the pinnacle, a rich Espresso infusion entwines with invigorating Peppermint Syrup and a dollop of Whipped Cream, creating a delicious symphony of flavours. In the heart, velvety Steam Milk intermingles with rich Cacao to entice your senses. And at its foundation, Dark Chocolate Shavings add a delectable touch of elegance and sophistication. Immerse yourself in the aromatic masterpiece of Candy Cane Mochaccino, where the enchanting blend of coffee, mint, and chocolate dances on your senses, offering an exquisite and unforgettable experience.

Fragrance Notes: 
Top: Espresso, Peppermint Syrup, Whipped Cream
Mid: Steam Milk, Cacao
Base: Dark Chocolate Shavings
Suitable for Paraffin, Soy, and Vegetable waxes
Flash Point: 168℉ | 76°C

Bath and Body Safe: No (refer to IFRA for usage levels)

Phthalate Free

Paraben Free

Vanillin Content: 1-3% (

PLEASE NOTE:

If vanillin content is present, oxidization will cause this fragrance oil to darken in colour over time. This does not affect the quality of the oil in any way. However, when added to wax, it may alter the colour of your end product.) 

All fragrance oils are best used within 1 year

This product is

Final Sale

, and is not eligible for refunds or exchange
Colour Suggestion: Red, Butterscotch, White, Brown

Wholesale 25 lb drum quantities available upon request.