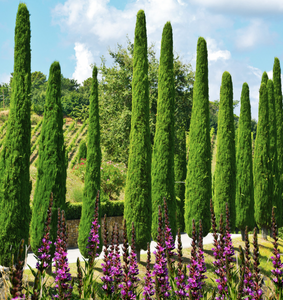 Description
Our exquisite fragrance oil, Blue Verbena & Cypress will immerse you in a captivating olfactory journey. The top notes dance with zesty accents of lemon and orange, infused with the enchanting aroma of cypress and eucalyptus. Delve deeper into the heart of this fragrance and be embraced by the soothing smell of blue verbena, geranium, and mint leaves. 
As the fragrance settles, the warm and woody tones of Cedarwood blend seamlessly with the allure of Amber, while a touch of White Musk adds a subtle and elegant sensuality.

Blue Verbena & Cypress Fragrance Oil provides an enchanting experience that captures the essence of nature, inviting you to indulge in the serene ambiance it creates. Sample this fragrance oil along with 9 other amazing scents in our Winter Fragrance Explore Kit!

Fragrance Notes: 
Top: Lemon, Orange, Cypress, Eucalyptus
Mid: Blue Verbena, Geranium, Mint Leaves
Dry
:
Cedarwood, Amber, White Musk
Suitable for Paraffin, Soy, and Vegetable waxes
Flash Point: 197℉ | 92°C

Bath and Body Safe: Yes (refer to IFRA for usage levels)

Phthalate Free

Paraben Free

Vanillin Content: 0 (

PLEASE NOTE:

If vanillin content is present, oxidization will cause this fragrance oil to darken in colour over time. This does not affect the quality of the oil in any way. However, when added to wax, it may alter the colour of your end product.) 

All fragrance oils are best used within 1 year

This product is

Final Sale

, and is not eligible for refunds or exchange
Colour Suggestion: Hunter Green

Wholesale 25lb drum quantities available upon request.