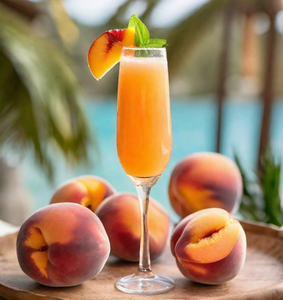 Description
 Embark on a sensory journey to paradise with our irresistible Bellini fragrance oil. Let the vacation vibes infuse your space as driftwood and amber evoke the essence of sandy shores. Indulge in the tantalizing harmony of succulent peach, luscious strawberry, and juicy melon, while the zesty notes of lime and bergamot add a lively twist. This lively blend captures the spirit of a sun-drenched beach day, where every breath is a celebration of tropical bliss.

Fragrance Notes: 
Top: Peach, Strawberry
Mid: Melon, Lime Zest, Berry Path
Base: Green Bergamot, Clove
Suitable for Paraffin, Soy, and Vegetable waxes
Flash Point: 109℉ | 41°C

Bath and Body Safe (refer to IFRA for usage levels)

Phthalate Free

Paraben Free

Vanillin Content: 0 (

PLEASE NOTE:

If vanillin content is present, oxidization will cause this fragrance oil to darken in colour over time. This does not affect the quality of the oil in any way. However, when added to wax, it may alter the colour of your end product.) 

All fragrance oils are best used within (1) year

This product is

Final Sale

, and is not eligible for refunds or exchange
Colour Suggestion: Orange, Yellow
Wholesale 25lb drum quantities available upon request.