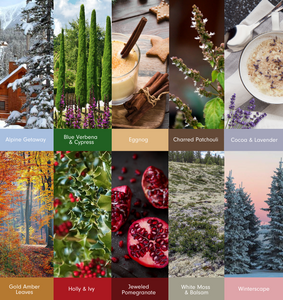 Description
Embark on a scented journey through a winter wonderland with our Winter Fragrance Explore Kit. This meticulously curated collection invites you to indulge in a captivating olfactory experience, featuring ten unique fragrance oils that capture the essence of the season.
Escape into the sanctuary of evergreen forests with frost-kissed air. Indulge in nostalgic aromas that evoke memories of cozy gatherings and joyful celebrations. Enjoy luscious fruits and velvety florals that will create a tantalizing ambiance. Immerse yourself in the enchanting scents of winter with our Winter Fragrance Explore Kit and let your senses revel in the magic of the season.

The Winter Fragrance Explore Kit Contains:
Colour Suggestions: Blue, White, Green, Red, Burgundy, Purple
Wholesale 25 lb drum quantities available upon request.