Welcome to our new MyVillage Loyalty & Rewards Program!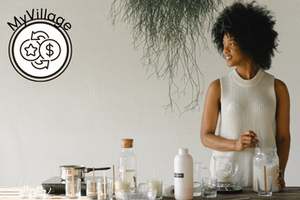 As a way to show our appreciation to you, all of us at Village Craft & Candle are excited to announce and release our new loyalty program, called MyVillage Rewards.
MyVillage is designed especially for you in support of your candle making craft and growing business goals! You deserve our thanks for:
Choosing high-quality products for your candle-making journey,

Your commitment to locally made products and,

Your continued support of the Village Craft & Candle community
V Points
How to start earning V Points? 
V Points can be earned by completing any of the following activities:
Create an account: Earn 100 V Points when you create an account
Complete your profile:

Earn 50 V Points when you complete your profile

Subscribe to our newsletter:

Earn 100 V Points when you subscribe to our newsletter

Review a product (feature released in May):

Earn 25 V Points for leaving a review

Fan the Flame with a social media share:

Earn 100 V Points when you share a recommendation to Village Craft & Candle on supported social media.

Referral earnings: get 500 pts when a friend buys using your referral link - plus your

 friend gets 10% off on their first purchase!

Make a purchase:

Earn 1 V Point on every dollar spent. And w

hen you spend over $1000, scoop up an additional 1000 V Points with your purchase.
How do I use/redeem my V points?
V Points can be applied as a discount when completing your purchase or they can be used to purchase a gift card.
Checkout discount:
With every 500 V Points you receive $5.00 off your next purchase
With every 1000 V Points you receive $10.00 off your next purchase
There are more great discounts available that you will see on Village Craft & Candle
Gift card for a friend:
With 1000 V Points you can also get a $10.00 gift card to share with friends and family
We are excited for you to join us in growing a truly amazing loyalty program together. We have many exciting additions that will come later in 2022 all in support of our village of candle creators.
PS - we know you might have questions, here are some additional details that are explained in our terms of use:
To earn points, you must be logged into your account.

Rewards can be redeemed for your next purchase in the form of account credit.

Points are not redeemable for cash.

Points do not expire.

Points are non-transferable. 

Points are not earned on shipping or sales tax.

We are unable to combine V Points if you have more than one account on VillageCraftandCandle.com.