The Ultimate Guide to Buying Wholesale Candle Supplies: Save Money, Secure Your Stock, and Grow Your Business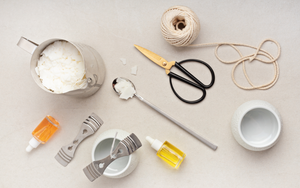 Are you a candle maker looking to take your business to the next level? 
Welcome to our ultimate guide to buying wholesale candle supplies! One of the best ways to boost your profitability and ensure you're always prepared is by buying candle supplies in bulk.
In this article, we'll explore the benefits of purchasing wholesale candle supplies, provide insights into what qualifies as wholesale, discuss available products, and share helpful services that make buying wholesale easier. Whether you're a small candle maker or looking to expand your business, buying in bulk can save you money, ensure stock availability, and support your growth. So, let's dive in!
The Benefits of Buying Wholesale Candle Supplies
Saving Money:

Wholesale purchases offer cost savings of up to 20% on selected items, allowing you to maximize your budget and increase profit margins.

Reduced Shipping Costs:

Buying wholesale means fewer shipments and lower shipping expenses, saving you money in the long run.

Stock Availability:

By purchasing supplies in bulk, you secure your stock in advance, ensuring you have everything you need to fulfill customer orders promptly.

Preparedness:

When unexpected events like supply shortages occur (e.g., during COVID-19), wholesale buying protects your business from disruptions and allows you to meet customer demands with ease.
Secure Your Stock
Eliminate Stock Shortages:

Buying wholesale supplies ensures you have an ample stock on hand, preventing the panic of last-minute orders or running out of essential materials. You'll be well-prepared for your customers' demands, even during unexpected spikes in sales.

Guaranteed Availability:

With wholesale purchasing, you no longer need to worry about items being out of stock when you need them the most. Village Candle provides a reliable supply chain, ensuring you receive your order promptly and have peace of mind.
Understanding Wholesale Quantities
Fragrances:

Wholesale fragrances start at 25 pounds, and anything above that quantity qualifies as a wholesale purchase. Keep in mind that a lead time of 3 to 4 weeks is typically required for fragrance orders.

Wicks:

Wicks are offered by the case, with a minimum starting quantity of 5,000.

Wax:

Depending on the type of wax you choose, wholesale quantities range from 37 cases up to 60 cases per pallet.
Finding Wholesale Products
Visit our website:

Explore our website's bulk section to find a comprehensive list of products available for wholesale purchase. Although you can't buy them directly online, you can contact us to place your order and receive a customised quote.

Request Unlisted Products:

If you can't find a specific item you need in bulk on our website, reach out to us directly, and we'll assist you in finding the product or alternative solutions.
Making Bulk Purchases Easier
Financing Options:

Village Candle offers a program called "Splitit" at checkout. This program allows you to split your payments into three instalments, ensuring you can buy a pallet without worrying about high-interest charges on your credit card. Take advantage of this convenient option to manage your budget effectively.

Storage Program:

If space is a concern, Village Candle provides a storage program for a fee of $45. You can store your pallets securely at their facility for up to a month, ensuring you have access to your supplies when you need them. This is particularly beneficial for those planning ahead or preparing for the busy holiday season.
Planning for the Busy Season
Early Ordering:

To ensure you have ample stock for the busy season, it is recommended to place your orders as early as June. By ordering in advance, you help Village Candle forecast demand and secure the necessary stock for your business.

Avoid Stock Shortages:

Ordering ahead of time helps prevent stock shortages, as inventory can be limited during peak periods. Stay ahead of the game by planning and placing your orders in advance.
Timely Ordering and Contact Information
Order Timing:

We recommend placing orders well in advance, especially during the busy season that starts around August. By ordering earlier, you help us forecast demand and secure stock for your business.

Contact Information:

To discuss wholesale purchases, contact Roxanne Ruscica, our wholesale account manager. Reach her directly at 437-755-1336 or email her at roxanne@vccandle.com. You can also submit a ticket on our website, and we'll promptly assist you in getting in contact with her.
Conclusion
Buying wholesale candle supplies presents significant advantages for candle makers of all sizes. By taking advantage of cost savings, ensuring stock availability, and utilizing our helpful services, you can propel your business to the next level. 
Contact Roxanne Ruscica, the wholesale account manager, to explore the possibilities of wholesale purchasing and take your candle-making venture to new heights. 
To get in touch with Roxanne:
Call: 4377551336

Email: roxanne@vccandle.com

Visit the Village Candle website and send a ticket to initiate contact.
Wholesale purchasing is the smart way to elevate your candle-making business and maximise your profits. 
Start saving money, securing your stock, and growing your candle-making business today!
Remember, at Village Craft & Candles, we're here to support your success. 
Happy candle making!