Split payments in split seconds!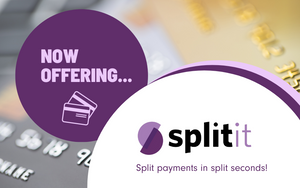 We are happy to announce that Village Craft & Candle now offers a new way to accept payments using your existing credit card with monthly instalments upon check out with purchases worth $2500 and beyond through Splitit.
Splitit is a payment solution that allows shoppers to use their existing credit card at checkout without increasing their debt, enabling consumers to shop more responsibly. There's no added interest or hidden fees, plus they get all the benefits of paying with their existing credit card, including rewards, transaction insurance and protection against fraud.
👉 When you add $2,500 or more to your cart, Splitit will appear on checkout. Splitit never charges any interest or late fees.
👉 Choose Splitit and select the number of payments. You choose the number of monthly payments that suit you and your budget.
👉 Enter your credit card details. Pay with your credit card. No applications or credit checks needed.
It's that simple. We wanted to provide a payment solution that will make your lives easier, seamless, and allow you to leverage your existing credit in a way that work better for you.
So go and shop now!