Nanny Angel Network – Free Childcare Support for Moms with Cancer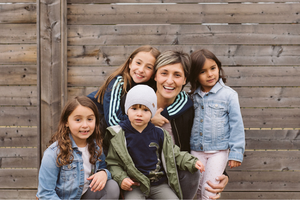 Nanny Angel Network (NAN) is an organization that provides free in-home childcare support for moms with cancer. Specially trained Nanny Angel volunteers go into the home, allowing moms to rest and focus on their cancer journey while their children learn how to better understand their mothers' illness.
Village Craft & Candle supports NAN's mission, and we're excited to share a small part of their amazing work with you in this interview with Audrey Guth, founder of the organization.
What is your organization's mission and the services that you offer?
Our mission is to lessen the impact of cancer on families. We created an organization to support moms with cancer and their kids so that no mother has to choose between her treatment and caring for her children; and no child has to endure a mom's cancer journey without support and information.  Our programs provide free, in-home and virtual childcare support to moms with cancer and their children. We do this through a network of specially trained and deeply committed volunteers that give moms the support they need so they can focus on their well-being, while giving their kids the tools to navigate their mom's cancer illness and build resiliency.  Our programs provide up to 10 hours of support through various programs such as in-home Nanny Angel visits, Homework Club, Mom Virtual Support Group, Teen Meet up, and Camp-In-a-Box. Our Meal Support Program provides nutritious, ready to serve meals for those families who need it the most.
What inspired you to form the organization? When and how did your organization start?
While I was undergoing my own cancer treatment, I noticed how many mothers around me in waiting rooms were struggling to care for their young children while enduring the stress of cancer treatments.  I became aware that many moms had to make that choice between getting well and caring for their children.  It was at that moment that I knew I had to do something to help.  
Can you tell us a particular story about how your organization is making an impact?
Every mother we support holds a story of heartfelt impact. One that comes to mind is of a single mother to an 11-year-old daughter. This mother has bile duct cancer, the same cancer that took the life of her husband 5 years ago. As she undergoes chemo, she often finds herself nauseous and exhausted. Her daughter sees her mother struggling and has taken on the role of a caregiver for her sick mother. This young girl has undergone so many changes in her life, including moving due to financial constraints. Thanks to our amazing in-home Nanny Angel, our Fun-In-a-Box program, and our Meal Support program, this little girl has nutritious food to eat and a trusted adult to provide a sense of normalcy in her life. She learns fundamental coping skills and is building resiliency with every Nanny Angel volunteer visit. NAN has provided this young girl the opportunity to build emotional resiliency. The NAN Program for Children gives her a chance to grow up without the burden of emotional and social stressors. This is just one of the many stories that shows how crucial our services are, how incredible our Nanny Angel volunteers are and how we could not do what we do without the support of partners like Village Craft & Candle. 
What led you to decide to form a partnership with Village Craft & Candle?
We are committed to supporting as many moms with cancer and their kids as possible, and partnering with businesses that are also looking to make an impact one family at a time! Village Craft & Candle was the perfect fit because we share our  passion for making an impact in the lives of those families who are going through such a difficult time. Village Craft and Candle is a company that is sensitive to the fact that women often bear the burden of running a household and family. Therefore, It was not a surprise for them to learn that it is not a fair playing field for moms with cancer.  We share the vision of supporting women, especially mothers through the most difficult time in their lives.
Looking ahead to the future, what are some of the big milestones you anticipate?
Since 2009 we have supported over 1,500 families living with cancer and provided over 22,000 nutritious cooked meals to immunocompromised moms.  The COVID-19 Pandemic gave us reason to innovate our program offerings so we could help families struggling with cancer feel safe and supported during this difficult time. This included creating a Virtual Homework Club, a Fun-In-a-Box program, Teen Meet-up, Virtual Mom Cancer Support Group and our Meal Support Program that provides much needed free delivered meals to our immunocompromised moms. Our vision is a world where no mother and her family have to endure a cancer journey without the support of the Nanny Angel Network. We anticipate that we will expand our network across Canada in this decade beginning with Hamilton and Barrie, Ontario in 2022.  The support from Village Craft & Candle will support the expansion of the Nanny Angel Network so we can help even more families living with cancer.
How do you visualize Village Craft & Candle can contribute to your achievements, growth, and continued success?
We could not support moms with cancer without the incredible help and passion of partners like Village Craft & Candle. It is because of this support that our organization has been able to grow and achieve such unbelievable success. We imagine a world where no mother with cancer has to choose between that of her own cancer treatment and childcare. Having the support of Village Craft & Candle means that NAN will be able to scale its support to new regions across Canada, something we are very excited to make a reality in the near future.