How to Start a Candle Business in Canada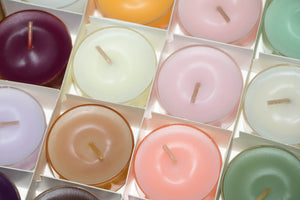 The events of the last few years have led to significant changes to work environments across Canada. Millions of Canadians were left without a job when businesses across the country closed their doors for lengthy lockdowns, and many were forced to seek new ways to make a living. 
Verified Market Research reports that the global candle market was valued at USD 7.15 Billion in 2020 and is expected to grow to USD 13.38 Billion by 2028. With numbers like that, it's easy to understand why so many people are drawn to the idea of starting their own candle making business.
There are so many reasons why running your own home-based candle business is a great idea.
It's fun.

You get to be creative.

You're your own boss.

No more commuting.

You can make it suit your schedule.
However, there are several factors that you will need to consider before you ever start selling candles. We'll explore those factors here.
Create Quality Products You Love
Before you start making sales, you must put some serious effort into developing your product. You want to make sure that your candles are top quality, and they are something that you're proud to stand behind. Even more important, you want them to burn safely and properly for your customers. 
The first thing you need to do is gather the equipment you will need to make your candles and find a supplier that provides high quality products and consistent inventory. Village Craft and Candle has been providing some of the best candle making equipment and supplies in Canada for the past 20+ years. Our staff works incredibly hard to source everything you need to create amazing candles for your customers, and we do all we can to maintain reliable steady inventory levels. 
If you haven't been making candles for long or have no experience at all, it's a good idea to get professional instruction. Candle making is by no means rocket science, but there are some tricks of the trade that a seasoned professional can teach you. You're bound to make some mistakes along the way and by learning from an experienced candle maker you can keep your trial period from becoming a lengthy and costly time.
You need to test every different candle recipe you create! I can't stress the importance of this enough. Every wick/wax/vessel/fragrance combination you make needs to be vigorously tested to ensure that it burns properly and safely. 
It is recommended that a candle burn no longer than 4 hours at a time. However, some people don't always follow the rules. That is why it's a good idea to test your candles beyond what is recommended to ensure that it will remain safe for all users. 
Once you have completed your testing, it's very useful to get input from others as well. Give samples of your candles to friends and family and ask them to try them out and give you their honest opinions. By the end of your product development period, you should have a candle that you know with certainty burns perfectly, smells amazing and you are proud to call your own. 
It's inevitable that you'll encounter someone who isn't a fan of your product, after all you can't please everyone. However, if you have done your due diligence from the beginning, you can deal with any unhappy customer confidently knowing that you have created an amazing product that many other people love.
Set Up Your Business Plan
Once you have completed figuring out what you are going to sell, then you need to figure out how you will go about selling it. For this you will need to develop a business plan. This will represent your strategy for how your business is going to work and succeed. 
Things that you should touch on in this document include a brief company overview, product descriptions, your mission statement, who your target market will be, how and where you will sell your products, your marketing plan, milestones, and goals and of course your financial plan.
Take some time to consider what your brand's mission statement is. Task yourself with writing a brief 3-line story about who you are as a brand and what you stand for. When you know who you are as a brand, it will help you to define who your target market is and where you should market to them.
How will you get your products into the hands of your target market? There are many ways to sell candles. These include farmer's markets, craft shows, your own website, other e-commerce websites like Amazon or Etsy, your own retail store or as a line in someone else's retail store. You will need to consider how you will process and collect payments. If you are doing online sales, you must consider how you will ship your products to buyers. 
Marketing is a valuable part of your business plan because it describes how you will attract and inform new customers. Social media is a powerful and cost-effective way to get your product in front of potential buyers, but you need to be strategic so that your advertising doesn't get lost among all the noise on people's social feeds. Never underestimate the power of word of mouth. Treat every customer like they will be your next brand advocate.  
You need to put numbers on paper and figure out what objectives you want to achieve. Set annual goals for your business and then break them into quarterly milestones with a value attached. Having it broken into smaller pieces can make it feel less daunting. If numbers aren't your strong suit, it's an excellent idea to get professional advice when creating your financial strategy.
It's important to take some time to assess your direction and results as you develop your business. Look at things such as customer feedback, product pricing, costing and other areas where you may need to make some adjustments if you notice something isn't working. Be flexible with your business plan and be prepared to adapt as needed.
Building Your Brand
The next thing you need to create is a brand identity for your business. This will involve coming up with a name, designing a logo and packaging. Make sure that your brand reflects your mission statement and your vision for the company.
A great place to start deciding on your branding is by researching your potential competition. See what they're doing, what they offer, how they offer it and what they charge. Take note of what they are doing that you really like and what you don't like. Use this research as inspiration and to help pinpoint how you could differentiate yourself from your competitors.
When it comes to choosing your business name, you will need to do even more research. Perhaps you already have a great name in mind, but after a quick Google search you may find that someone else has already claimed that name as their own. The last thing you want to do is go to the trouble of designing your brand identity around a name that belongs to someone else. 
The Government of Canada offers some valuable information here. They give tips on how to select a great business name, resources for searching to see if the name you have selected is available and a place where you can register your business name.
Once you have chosen your name, you will need to design an eye-catching logo. Your logo is a graphic representation of your brand, and you want something that will positively reflect your vision for your business. A logo is necessary if you plan to do online marketing. 
There are several different ways to go about designing your logo. You can hire a professional graphic designer to ensure that your logo is unique and exactly what you envisioned. You could purchase a stock logo template from a commercial website. If you would like to design your own logo, but you don't have access to professional graphic design software, there are so many free online design websites available for amateurs. Websites like Canva and Design Wizard allow just about anyone to create their own custom logo with ease. 
These free design websites can also be the perfect place to create beautiful high-quality labels and packaging as well as attention grabbing marketing materials. Designing all these things in the same place will help you to maintain a consistent brand identity.
Align Your Business Necessities
When all the fun and creative parts of your business planning have been figured out, then it's time to think about some of the less exciting but equally as important aspects of running a candle making enterprise. 
You definitely want to protect yourself and your business assets with proper insurance. It is a good idea to approach an insurance broker about getting your business liability insurance rather than your home insurance provider if you plan to set up your candle making operation within your home. Some candle makers have been threatened with losing their home insurance due to some providers considering a candle business too large of a risk.
If bookkeeping is not something you are comfortable with, hiring a professional is highly recommended. They will help with recording and maintaining your business' financial transactions, such as purchases, expenses, sales revenue, invoices, and payments.
Taxes are something else that need to be considered when starting any kind of business. Depending on where you are located, there are various taxes that your business will be expected to pay. These include income tax, sales tax, and property tax to name a few. Reach out to your local Chamber of Commerce or employment office for assistance on this. 
Work Hard and Have Fun!
Make sure that your business is built on a foundation of something that you truly love to do. After all, it will require a lot of time, dedication, and passion to get your business up and running smoothly as well as making money. The success of your business will ultimately come down to you and how hard you are willing to work for it. If you enjoy your job, the hard work will feel easy to you. 
Put your focus on the areas of the business that you excel at and be willing to ask for help in the areas that you don't. Seek out professional help whenever you need it. Time management and organizational skills will be key to operating your business and your home life simultaneously. For your own sanity, create a schedule and set boundaries so that you maintain a healthy balance between the two.
Finally, while you're busy building an empire and running a household, remember that you also need to look after yourself. Be sure to schedule some me-time. Exercise, eat well and get plenty of rest because self care is important too. If you neglect yourself, every area of your life will suffer.
Conclusion
With the Canadian candle market booming, there has never been a better time to start your own candle making business. It's something that can easily be done in addition to your current employment, but it could also be a full-time gig if you want it badly enough and you really go after it. 
Take the time to sit down and really think about what you want your business and your products to be like, and then come up with a solid plan of execution. Review successes and failures as you go along and be flexible enough to change course when and where you need to. In the end, whether your business is lucrative or not will be determined by how hard you are willing to work for it and your passion for your products.
We hope that this guide helps you as you move through the process of beginning your new candle making venture. Feel free to contact us for more info.