From Hobby to Business: When You Should Consider Getting Candle Business Insurance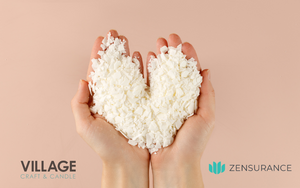 If you're ready to transform your candle-making hobby into a side business or a full-time endeavour, it's time to look closely at protecting your financial assets and reputation.
Getting into candle-making takes creativity, patience, passion and dedication. Doubly so to hone your craft, adapt and learn, and revel in the joy of expanding your knowledge of materials, measuring ingredients precisely, and adding a touch of flair as you experiment with different designs, colours, and fragrances. In many ways, such a hobby is a labour of love.
Over time, and as your technique improves, you can transform your candle-making hobby into a side business or a full-time endeavour. It's then that you need to think about candle-making differently.
After all, evolving from a hobby into a legitimate business intending to generate profit by selling candles to customers, even on a small scale, opens you to potential risks that could result in significant financial loss. That's when it's time to consider purchasing business insurance.
What Liability Risks Do Candle Makers Face?
Any small business or self-employed professional faces liability risks offering products and services to the public. Candle makers are not unique in that regard.
From third-party bodily injury and property damage claims, legal threats, and theft to the possibility of fire or severe weather causing damage to your business property and inventory, any small business owner or sole proprietor needs a comprehensive insurance policy to shield them from the financial consequences. Without insurance, you're on your own to pay out-of-pocket in such scenarios, and the costs can possibly lead you to bankruptcy.
Does Residential Home Insurance Cover a Home-Based Candle-Making Business?
You might think if your candle-making operations are small and you operate out of your home you're already protected by your homeowner insurance policy. That's not necessarily so. 
Residential homeowner insurance is not designed to cover a home-based business. If something unexpected happens related to your candle making, like a fire that damages your home and ruins your inventory, a home insurance policy may not pay for the damages. Moreover, if your home insurance provider was unaware of your home-based business, the insurer could cancel your policy. That will only make getting a new homeowner policy more difficult (and expensive).
But suppose your home or condo policy does offer some level of coverage, and your insurer is aware that you make candles at home to sell to the public. Chances are the coverage limit is insufficient to pay for expensive damages. Further, sole proprietors are personally liable for damages or claims against their businesses.
What Does a Candle Maker Business Insurance Policy Include?
What a customized candle maker business insurance policy includes depends on your business's details. In general, a policy for a candle maker usually consists of these four types of coverage:
General liability insurance

: General liability insurance covers your daily operations against third-party bodily injury or property damage claims. For instance, if you have a brick-and-mortar store selling the candles you make and related accoutrements, and a customer trips, falls, and is injured while visiting your store, general liability is designed to cover their medical expenses.
Product liability insurance

: Whether you sell your goods at farmers' markets, local festivals, in retail shops, from home or online, you need product liability insurance. You're legally responsible for any product you manufacture, distribute, or sell. It covers third-party property damages or bodily injuries caused by your products. This type of coverage may be included with general liability insurance, or you can add it to your policy if it isn't.
Commercial property insurance

: Commercial property insurance protects your business location (store, home office, workshop), its contents (furniture, electronics, and equipment), and inventory or merchandise if damaged by water, fire, a natural disaster, theft, or vandalism.
Cyber liability insurance

:

If your candle-making business has a website, uses email, a point-of-sale (POS) system, or sells products online, cyber liability insurance is critical. No sole proprietor or small business owner is immune to a cyber-attack or data breach that compromises your business and customers' confidential information.

Cyber liability insurance can help if you're a victim of cybercrime by providing support for crisis management and notification expenses, funds for legal advice, and credit monitoring fees for you and your affected customers.
How Much Does Candle Maker Insurance Cost?
Insurance providers charge different amounts for a candle maker policy. They base their pricing decision on a range of factors about your business, including:
Your location
Your years of experience as a candle maker
The products and services you provide
How many employees you have (if applicable)
Where your products are sold
What your manufacturing process is
The equipment and materials you use
Your annual and gross projected revenue
Your insurance claim history
Although rates vary, the annual premium for a candle maker starts at approximately $510 for general liability insurance with a $1 million coverage limit.
How to Get Low-Cost Candle Maker Business Insurance
Don't burn the wick at both ends. Protect your candle-making business from liability risks by investing in a customized candle-maker business insurance policy.
Partnering with a small business insurance broker can help you shield your finances and reputation with a tailored policy that suits your operations. That's because a broker works for you by partnering with you to understand your business and make risk mitigation, insurance, and coverage limit recommendations and explaining in-depth what you are covered for and what is excluded from that policy. 
Furthermore, a broker takes the stress of getting insured by shopping your rate to different insurance providers to find the low-cost protection any candle maker needs.
So, get the coverage you need, protect your financial well-being, and focus on what you do best: making candles. Then, bask in the afterglow knowing your business is protected should something unexpected happen.
About the Author
Brandon Bowie is a licensed broker and Team Lead, Property and Hospitality at Zensurance, Canada's leading source for small business insurance. Get a free quote for your candle-making business by visiting Zensurance.com/villagecraftandcandle.