Candle Making Fall Winter Trends 2023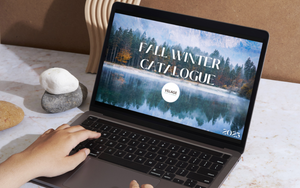 Welcome to Village Craft & Candle's highly anticipated 2023 Fall and Winter Trends Catalogue! We're thrilled to present two mesmerizing themes that will elevate your candle experience: Woodland Wanderlust and Sumptuous Temptations.
Our 2023 Fall and Winter Trends Catalogue is filled with a thoughtfully curated collection of candles and accessories that perfectly capture the essence of Woodland Wanderlust and Sumptuous Temptations. Whether you're seeking a calming connection with nature or a lavish indulgence for the season, our selection is designed to ignite your creativity and infuse your space with enchanting vibes.
Woodland Wanderlust: Embrace Nature's Tranquility
Experience Woodland Wanderlust, a candle trend inspired by the serene beauty of the forest. Here, you'll find an array of soothing scents and natural colors, infusing your home with the grounding energy of nature. Our rustic vessels blend effortlessly into any space, creating a cozy and inviting ambiance that brings the outdoors inside.
Catering to the growing demand for nature-inspired products, Woodland Wanderlust offers a sensory experience that brings the tranquility of the forest into customers' homes. They will delight in the chance to bring the calming essence of the woods into their living spaces, creating a comforting and harmonious atmosphere.
Sumptuous Temptations: Indulge in Decadent Aromas
Prepare to indulge your senses with Sumptuous Temptations! This candle trend promises an enticing selection of luxurious scents, from apples and pomegranates to pumpkins and patchouli. Rich jewel tones add an opulent touch to your decor, while sleek vessels with metallic accents elevate your candle experience to a refined level of luxury.
Sumptuous Temptations presents an opportunity for candle makers to create stunning and captivating products. Elevate your offerings to cater to consumers seeking a lavish sensory experience, enticing them with exquisite craftsmanship and enticing scents.
Explore the beauty of Woodland Wanderlust and the allure of Sumptuous Temptations, creating an elegant and enchanting sanctuary within your space.
We invite you to experience the captivating charm of candlelight as it infuses your home with delight and wonder, one flickering flame at a time!