Announcement: Soy wax price increase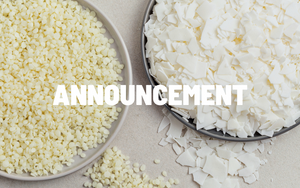 We wanted to take a moment to update you on an important price change that will take effect on March 8, 2023 and will affect the following types of soy wax:
Freedom Soy - $71.00 per 25lb case

Millennium Soy - $71.00 per 25lb case

Container Soy - $71.00 per 25lb case

M-100 Votive and Pillar Soy Wax - $93.00 per 25lb case
Due to unprecedented shifts in the soybean market, our team has been working hard to ensure we limit any major costing impacts and continue to deliver quality products at an effective price.
As a result, we managed to maintain only a marginal increase to achieve our goal of making sure your business won't be affected. Our team is always planning out as far as we can to maintain transparency in the various markets to ensure we act on your behalf to deliver what you expect and require to scale your growth. As a fellow entrepreneur and valued partner to us, your continuous support and understanding is what makes who we are together!
We understand certain changes can impact scheduling which is why these prices will not come into effect until Midnight on Wednesday, March 8th, 2023. We want to provide you time for planning your wax supply needs (maybe grab an extra case or two) and connect with our team to address any questions you may have.
Additionally, we want to remind our customers that purchasing soy wax in bulk can be a cost-effective way to save money in the long run. By buying in larger quantities, you can take advantage of our bulk pricing discounts and save on shipping costs as well. For more information on purchasing in bulk, please visit our website or reach out to us at support@vccandle.com. 
Our commitment to providing you with high-quality products and excellent service is our main priority. We thank you for being a valued partner.